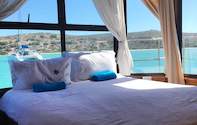 © Kraalbaai Luxury Houseboat
The West Coast National Park offers a range of self-catering accommodation options, from luxury houseboats, to rustic cottages with the most sensational views.
What sets the West Coast National Park apart, is that it offers a range of SANPark-run accommodation options to suit all budgets and travel needs.
There are dozens of cozy cottages and charming chalets to choose from in all different areas of West Coast National Park. From Van Breeda and Joanne's, to Steytler and Abrahamskraal, you can pick out a locale close to the lagoon, or slightly more remote and secluded. Speak to your Siyabona Travel Expert if you're unsure where to start.
For something slightly more adventurous (and luxurious) consider a few nights at the double-story Kraalbaai Houseboats. Permanently moored in the Langebaan Lagoon, these units come well-equipped with a whopping nine bedrooms, four bathrooms, two lounges, and two kitchens. However, there is also a six-sleeper option.