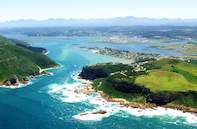 The Knysna National Lake Area has a moderate coastal climate with warm summers and mild winters that often produce sunny, wind-free days.
Forming the middle section of the Garden Route National Park, the Knysna Lake Area is a popular visitor destination year round. Its beautiful scenery, attractions and relaxed lifestyle make it a great base for discovering the Garden Route.
Garden Route National Park, South Africa
This beautiful stretch of coastline in South Africa is a national treasure. It incorporates the Knysna Lake Area, Tsitsikamma National Park and Wilderness. This South African national park offers splashing waves of the Indian Ocean and pristine beaches, rugged cliffs, Cape indigenous forest, Fynbos, lakes and rivers.
Directions to the Knysna Lake Area
Knysna is some 500km (311 miles) from Cape Town and approximately 300km (186 miles) from Port Elizabeth. The nearest airport for scheduled flights is George which is about 70km (43 miles) from Knysna.
GPS Co-Ordinates
Storms River
S 34 01' 18.8"
E 23 53' 47.9"
Nature's Valley
S 33 58' 19.0"
E 23 33' 48.2"
Knysna
S 34 02' 57.80
E 23 02' 44.49