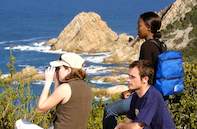 Knysna National Lake Area activities provide endless entertainment for outdoor enthusiasts and families. The town of Knysna also provides great dining venues, shopping and art and craft centres.
The picturesque town of Knysna offers great opportunities for fishing, water sports, lake excursions and golf. Knysna Lake Area activities include the Outeniqua Hiking Trail, boating, walking, biking and birding in an area where conservation and recreation subtly harmonise.
There is plenty to see and do in Knysna. Private operators in the area offer a wide range of exciting activities. Visitors can enjoy superb cruises on the lake, nature reserve rambles, wildlifeencounters, markets, festivals and sports events in a relaxed environment.
Elephant sanctuaries in the area are a reminder of the once large herds of Southern Cape Elephant that lived in this region. Sadly, through poaching and habitat encroachment only three wild Elephant remain and they have hidden themselves deep in the forest. Visitors to Knysna can see the endangered Blue Duiker, South Africa's smallest antelope, and keep a look out for the brilliantly coloured Knysna Loerie, one of the country's endemic bird species that lives in the forest.
Forest activities
Harkerville Forest
The Garden of Eden, picnic and view site
Kranshoek Viewpoint and picnic site
Kranshoek Coastal Day-Walk
Coastal Hiking Trail
Mountain biking routes
Horse riding trails
Goudveld Forest
3 picnic sites
Big Trees
Millwood Mining Walk
Dalene Matthee Trail
Jubilee Creek Walk
The Homtini Cycle Route
Outeniqua Hiking Trail (up to 108km / 67 miles) from Beervlei to Harkerville
The Terblans Walk
Diepwalle and Gouna Forest
Elephant Walk
The Petrus-Se-Brand Cycle Route
Outeniqua Hiking Trail
Spitskop Viewpoint
4 picnic sites