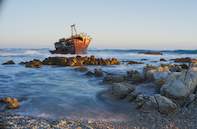 © Robert Hofmeyr
This Western Cape National Park in South Africa is easily accessible from Cape Town or the Garden Route by car. It is a firm favourite for weekends away and longer family holidays.
Agulhas National Park forms part of the Cape Floral Kingdom, which is the smallest and also the richest of the world's 6 floral kingdoms. This Western Cape National Park in South Africa is also hugely important from a wildlife point of view.
Rare and endangered animals can be seen here in a variety of habitats including wetland and coastal environments. The windswept plains and rugged coastline also show signs of ancient Khoisan settlements. Right next to the park is the second oldest working lighthouse in South Africa (1849). This region experiences a Mediterranean climate of dry and hot summers and wet and cool winters.
Directions to Agulhas National Park, Western Cape, South Africa
By Air
The closest airports to Agulhas National Park would be in Cape Town and George.
By Road
The Agulhas National Park is located at the most southern tip of Africa and can be accessed via the N2 highway from the south, passing through Caledon and Bredasdorp or if coming from the Garden Route, via Swellendam and Bredasdorp Alternately, you can take a scenic gravel road on the coast which travels through Gansbaai to Baardkeerdersbos and then via Elim.
GPS Co-ordinates
The co-ordinates for the Agulhas Park Office are: 34:48.054 S 20:03:45.3 E