The West Coast National Park is famous for its many spring flowers and excellent pelagic birding. However, it is home to many marine species and small mammals.
What Wildlife Can I See in the West Coast National Park?
Today visitors may see Common Eland, Red Hartebeest, Steenbok, Common Duiker and Cape Grysbok, some of which occur naturally in the area, while others have been reintroduced. Of the 19 rodent species found in the reserve, only the Four-striped Grass Mouse is sometimes seen foraging around the park-run picnic sites.
The reserve's carnivores are all mostly secretive or nocturnal, however; visitors do occasionally have sightings of Yellow Mongoose, Bat-Eared Fox and Small Grey Mongoose. Caracals, Honey-Badgers and Black-backed Jackals are also found in the area.
Cape Fur Seals, Dusky, Common, Bottlenose and Haviside Dolphins are all often seen playing in the waters along the coast and Southern Right Whales are often seen towards the north-west of the peninsula during the winter months. The West Coast National Park is also one of the most important wintering grounds for about 26% of the Palearctic waders in the Western Cape and thousands of birds flock to the reserve annually to see out the winter.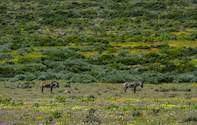 ©Eric Miller
In Spring See Carpets of Wildflowers
The nature park's vegetation is dominated by the Cape Floral Kingdom and each year after the winter rains the visitors are met with a magnificent display of annually flowering plants blanketing the landscape. Yellow Daisy-bush, Proteas, Milkbush and Yellow Milk-bush are just some of the plants that make up the blossoming display and the rich diversity of flowers has been split into 36 different botanical communities.
Just a 1.5-hour drive from the city of Cape Town, the West Coast National Park is a rugged wilderness gem nestled along the West Coast region of South Africa....
more