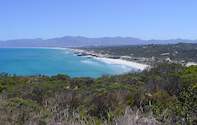 Grootbos Private Nature Reserve, Gansbaai, Western Cape, combines conservation, relaxation and luxury in an area renowned for its flora and marine biodiversity.
Grootbos Private Nature Reserve, Gansbaai, Western Cape is 170km (106 miles) south east of Cape Town between Hermanus and Cape Agulhas. Those on a Garden Route itinerary can visit this beautiful area for a superbly peaceful stopover. Guests can smell the aromatic wild herbs, watch exquisite birds and be awed by the scenery.
The Walker Bay coastline is a prime whale breeding and calving ground and every year between July and December many Southern Right Whales come here. It is a sight to behold especially when they come within 30 metres of the shore. For outward bound excursions, binoculars are available on request and even in windy or rainy conditions ponchos can be obtained.
Grootbos Private Nature Reserve, Gansbaai, Western Cape is a pioneer in its conservation methodology in South Africa. On guided hikes and walks, guests can experience nature like never before. Expert guides at Grootbos introduce visitors to the wonders of the Fynbos and Milkwood flora and the fascinating connections between insects, birds, mammals and flowering plants of this diverse ecosystem.
The Grootbos Foundation was established during 2004 to manage and implement environmental and social development projects for Grootbos in South Africa. Funds generated by the eco-tourism business are invested through the Foundation into a number of projects. In this way guests directly support biodiversity conservation and social upliftment on the Agulhas Plain.
Income is also generated through the Foundation's sale of indigenous plants and landscaping services provided by Green Futures horticultural and Life Skills College. The Green Futures Project is a unique project which provides annual, practical-based training on the Grootbos Reserve for unemployed people in the fields of Fynbos landscaping, horticulture and ecotourism. The project is designed to develop nature-based sustainable-livelihoods for people from local communities around Grootbos.
Directions to Grootbos Private Nature Reserve, Gansbaai, Western Cape, South Africa
From Cape Town
Take the N2 from Cape Town, past the airport to Somerset West. Either follow the N2 over Sir Lowry's Pass turning onto the R43 after the Houhoek Pass, or take the R44 along the coast and turn onto the R43 to Hermanus. Drive through Hermanus - Grootbos is situated 13km (8 miles) past Stanford on the R43.
From the Garden Route
The N2 brings you west past Swellendam and Riviersonderend -10km (6 miles) past Riviersonderend, turn onto the R326 to Stanford. At Stanford turn left on to the R43. Grootbos is situated 13km (8 miles) from Stanford on the R43.
GPS Coordinates
S -34.55067
E 19.41581