© Meerkat family at Tswalu Kalahari Reserve.
Find the closest Northern Cape nature reserves near Upington, for your South African self-drive holiday. Pack the whole family and explore the beauty of South African Nature Reserves.
Augrabies Falls National Park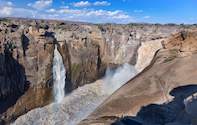 ©Chris Daly
Distance: 120km
GPS Coordinates: 28:37:02 S, 20:20:57 E
Augrabies Falls National Park The enigmatic and alluring Augrabies Falls National Park is situated just west of the town of Upington in the Northern Cape Province of South Africa. Bask in the beauty of the Augrabies Falls waterfall flowing from 60 metres high. Admire interesting plant life like the Quiver Tree. Activities include self-guided hiking trails, 4x4 game drives, river rafting, and mountain biking.
Tswalu Kalahari Reserve

Distance: 263km
GPS Coordinates: 27:13:30 S, 22:28:40 E
Tswalu Kalahari Reserve, located at the foot of the Korannaberg Mountains in the grasslands of the Kalahari, Northern Cape, is South Africa's largest private game reserve. This malaria-free reserve plays host to a large amount of rare game, 230 bird species and 70 different mammal species making for abundant and unforgettable wildlife sightings.
Kgalagadi Transfontier Park

Distance: 265km
GPS Coordinates: 26:47:39.5 S, 20:61:32 E
Kgalagadi Transfontier Park was proclaimed in 1931 to protect migratory game in the region. Located in a large sand-filled basin, this arid landscape overlaps both South Africa and Botswana to create one of the largest conservation areas in the world, covering over 3,6 million hectares.