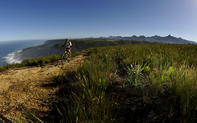 © Jacques Marais
The Garden Route National Park covers 157 000 hectares of land and is known for its spectacular mountain scenery and a wide diversity of landscapes. A premier tourist destination, visitors to the area and enjoy wonderful scenic walks, bird watching and an array of different flora and fauna.
The History of the Garden Route National Park
The Garden Route National Park includes the former Tsitsikamma and Wilderness National Parks as well as the Knysna Lake area. It also includes most of the area between Wilderness and Storms River on the coast and up to the N9 further inland. The Park is flanked by the Indian Ocean to the south also includes most of the Tsitsikamma, Langkloof and eastern Outentiqua Mountain ranges.
An area so rich in natural beauty and biodiversity, it is unsurprising that human beings have been occupying the area for over 125 000 years and there are a number of important historical sites in the region especially at Nelson Bay, Matjies River, Kangkara and Storms River.
A site of particular interest is Klasies River, where a number of sea caves have been found which contained artefacts including human skeletons and stone tools. The site also has a number of marine remains including shells and bones from Fish, Seals and Penguins and thus it is sometimes referred to as the 'first seafood restaurant'.
The San people arrived in the area around 20 000 years ago and the Khoi about 1 500 - 2 000 years BC. The Europeans arrived in the 17th century and their arrival saw the destruction or end of the San and Khoi culture and economic structure as well as a massive depletion of their populations due to Smallpox.
The first Europeans in the area were hunters, intent on making livelihoods and riches off of the abundant ivory found in the area. The 19th century saw the arrival of more settlers, this time with the intention of exploiting the wood from the copious hardwood trees found in the forests around the area.
In 1964 the Tsitsikamma National Park was proclaimed and the Wilderness and Knysna National Lake Area Parks followed later in 1985 as a precautionary measure to protect the natural beauty of the surroundings.