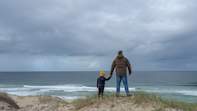 © Peter Delaney
"Oh wow…Stop, stop!" "I can't stop here - didn't you know it's illegal to stop on the side of a highway in South Africa, Jo?
By Jo Kromberg
I glower silently at my sanctimonious, rule-abiding photographer as the breathtakingly yellow Canola fields superimposed on the dark purple majestic mountains right behind them disappear in the rear view mirror. "That was a once-in-a-lifetime photograph you know," I mutter sullenly.
But then a very strange and rare thing happened - I was wrong. All along the magnificent Overberg on this cloudy Spring day on route to De Hoop Nature Reserve in the Western Cape, the yellows, greens, greys and purples that only nature can conjure up, unfolded all around us.
Like ever changing colour filters , the wind-blown clouds cast different lights and effects on the already picturesque and undulating landscape, stocked with vineyards, corn field, canola fields, hills and valleys as far as the eye can see.
Sance map - as usual - with only a rudimentary GPS system, we found the turn-off to the aptly named Hemel-en-Aarde valley just before one enters the sea-side resort town of Hermanus. It means Heaven and Earth and in many ways this area may be summed up in clichéd, even Biblically lyrical terms. It is a resplendent piece of the earth, resonating with sensory images, sounds and smells.
The winding road takes us to Creation Wines. 'Hemel-en-Aarde' falls under the appellation of Walker Bay and is divided into three wards: Hemel-en-Aarde Valley, Upper Hemel-en-Aarde Valley and Hemel-en-Aarde Ridge. Creation takes pride of place in the Hemel-en-Aarde Ridge where, as our charming hostess and proprietor Carolyn explains, their vineyards are planted some 350 meters above sea level. Here ideal soil types combine with the cooling breezes off the Atlantic Ocean (only a few kilometers away) to create wine-growing conditions rivaling the world's best.
After a spectacular lunch - and some of the best wines I've tasted in years - we continue our journey to De Hoop Nature Reserve. Stone Age people resided in the De Hoop area thousands of years ago. These nomadic Khoi inhabited the southern Cape and their middens are evident today. This region is a World Heritage Site and a treasure-trove of natural assets. At about 36 000 hectares, it is the flagship of CapeNature. The De Hoop Marine Reserve was proclaimed in March 1986 and extends a further three nautical miles off the coastline.
Our first night is spent at on of the self-catering cottages; whitewash-walled fisherman-style houses characteristic of the Western Cape Coast. It is ideal for a family and friends getaway, the cottages are well appointed and provide guests with a home-from-home setting.
But it is the intriguingly named "Koppie Alleen" where we stay the following evening that is simply awe-inspiring.
Nestled amongst the magnificent fynbos, home to countless birds and antelope, the self-catering Koppie Alleen has the elusive combination of privacy and direct access to the sandy beaches. Built in the local fisherman-style, the cottage boasts four-poster beds with crisp white linen and mosquito netting. The Mediterranean-style living area has a huge indoor fireplace for chilly Cape winters. The protected outdoor area looks onto the beach, with sun-loungers, umbrellas and barbecue area for alfresco dinning and relaxation.
Evenings spent at Koppie Alleen recall a time when the romance of firelight and paraffin lanterns was commonplace. It is perfect for a long, lazy family vacation. There are four beautiful double rooms with everything provided and two gorgeous bathrooms.
There is no electricity which makes it a unique adventure for jaded city kids. There are also numerous games to keep them entertained for hours. This is of course, over and above the wonder-land of eco-systems waiting to be discovered in the area together with a variety of antelope, giraffe and zebra in the park.
We wondered off to the beach in the last light of early summer. It's difficult to describe the notion of time standing still, standing on the rocks and watching about 14 hump-back whales frolicking in the sea before your eyes. For anyone badly in need of a family vacation that offers something different, De Hoop offers that and so much more.
The family friendly De Hoop Nature Reserve is ideal if you are embarking on a self-drive holiday along the Garden Route or simply looking for a relaxing...
more