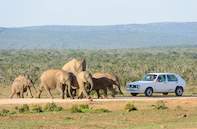 © Shem Compion
From game drives through the Park, elephant interaction, horse trails, hiking trails, bird watching, and 4X4 trails, there is never a dull moment in Addo during a safari in South Africa.
Addo Elephant National Park in Eastern Cape offers numerous wildlife experiences for guests to enjoy during a safari in South Africa. Your accommodation will each have their own offering of activities.
Guided Game Drives
There are a few game drives options available, all of which are conducted by experienced, knowledgeable guides who will track wildlife and tell you interesting facts about wildlife behavior.
Self-Drive Game Viewing
Guests may enjoy game viewing in the comfort of their own vehicle dyring the opening hours of the park's game gate. Please note that the opening times change according to the season.
Horse Trails (Addo and Zuurberg)
The Addo and Zuurberg Horse Trails offer amazing trails suitable for all levels, from the amateur to the professional through a range of habitats. Trails range from one hour out rides to overnight adventures to Narina Bush Camp. This is a great way to discover the wild at close quarters.
Hiking Trails
Addo offers various hiking options, ranging from one hour trails for novices, to the 4 hour Doringnek Trek to a beautiful natural pool for more experienced hikers. The Alexandria Hiking Trail is a popular 2 day / 1 night hike. It starts in magical coastal forest where Knysna Loeries and ancient Yellowwood trees can be seen before moving across sand dunes to the cliffs above the sea and the overnight hut. This area has fascinating archaeological sites on the coast and also in the Langvlakte Valley where the hike ends the following day.
Bird Watching
The SASOL Red Bishop Bird Hide is set near the waterhole in the main rest camp, affording great opportunities to view Red Bishops, Weavers, Herons, Coots and Terrapins. The main rest camp is home to 170 bird species, while the rest of the Park may contain as many as 450 species in a range of habitats.
PPC Discovery Trail
In the main camp, the PPC Discovery Trail is a short and pleasant walk through the valley thicket, where guests get the chance to learn more about the plant and animal life of the region during a safari in South Africa. The first loop of this walk is suitable for visually impaired and wheelchair bound visitors.
4X4 Trail
Enjoy breathtaking views and early 20th century history while riding the Bedrogfontein 4X4 trail between Kabouga and Darlington. This area has diverse scenery and rock art can be seen on this route which was the scene of battles between the British and the Afrikaner troops during the Anglo-Boer war.
Other Activities include
Zuurberg hiking trails: 1 to 4-hour trails in the Zuurberg Mountains
PPC Discovery Trail: also suitable for wheelchair-users and the visually-impaired
Picnics
Swimming pools
Children's activities