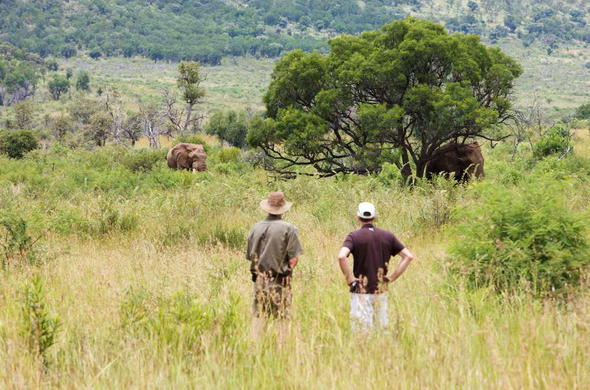 Bushveld is a rather loose term and refers to the areas of mixed woodland between 1 000m and 1 500m above sea levelAlmost all of South Africa's 472 000 square miles lie below the Tropic of Capricorn, and the country is geographically composed of 3 primary regions: an expansive central plateau, a nearly continuous escarpment of mountain ranges that ring the plateau on the west, south, and east, and a narrow strip of
low-lying land along the coast
.
Most of the central plateau consists of high, rolling grassland known as highveld. The highest points of the mountainous escarpment are found in the stunning Drakensberg Mountains, where the tips of dragon's back can exceed heights of 10 000 feet.
In the northwest, Kgalagadi Transfrontier Park, one of the continent's largest game reserves, extends into the red sands and scrub grasslands of the great Kalahari Desert. In the northeast, the highveld plateau descends to the Bushveld and Limpopo River basins.
Bushveld is a rather loose term and refers to the areas of mixed woodland between 1 000m and 1 500m above sea level. It is the main vegetation type in Mpumalanga and extends into Gauteng, the Northwest Province, Limpopo, parts of KwaZulu-Natal and the Eastern Cape. It is the biome, or vegetation type, most commonly associated with wildlife and where you will find most of the game viewing destinations.
It is this area that South Africans have in mind when they dream of heading off 'into the bush'. The major activities here are all game related although there are a number of cultural destinations and, of course, many of the more adventurous activities, such as hiking, river rafting and climbing can be done here.