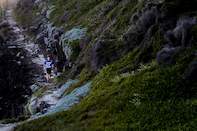 © Jacques Marais
This attractive town on the banks of the Touws River Lagoon is an excellent base for a general Garden Route holiday.
<
Wilderness is nestled between the Kaaimans River and Goukama Nature Reserve, while bordering the Outeniqua Mountains. Famous for having wonderful sea conditions and lovely beaches, Wilderness has become the ultimate tourist destination. Weather conditions are great with an excellent climate, as the temperature hardly drops below 8 degrees C (46 degrees F).
The 2500 hectare Wilderness National Park; includes 5 rivers, 5 lakes and a coastline stretch of 18 kilometres (11 miles). A variety of wildlife is featured in the game reserve. Wilderness National Park on the Gadren Route offers lovely walks and gentle canoeing in a watery wonderland filled with an enormous variety of birds.
The beach is long and lovely, there are dolphins and whales to be seen and the Outeniqua Choo-Tjoe stops here. Active travellers will love this place. There are a number of good paragliding launch sites and schools so aspiring pilots could do a course here.
The fantastically scenic Kaaimans River offers fun abseiling, canoeing and kloofing, and there are some fun, short mountain bike rides. Wilderness is on the N2, right in the heart of the Garden Route.
The closest airport is George, which is a mere 20 odd kilometres away (about 13 miles). Wilderness is about 450 kilometres (279 miles) from Cape Town and just over 300 kilometres (186 miles) from Port Elizabeth.