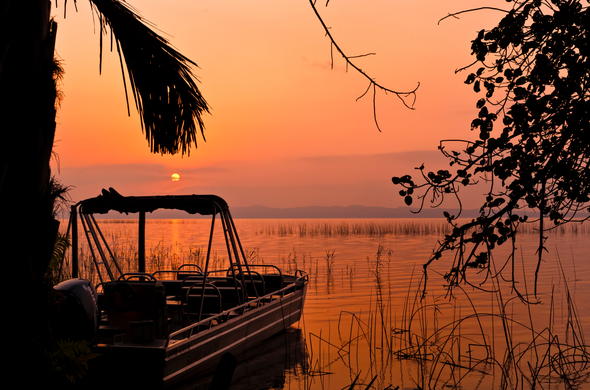 Proclaimed South Africa's first World Heritage Site in 1999, the iSimangaliso Wetland Park in KwaZulu Natal has a long and rich history of exploration and discovery that dates back as far as the Later Stone Age.
Orientating yourself in the iSimangaliso Wetland Park
Stretching up the northern reaches of KwaZulu Natal from the Msunduzi River for 332 000 hectares, toward the border with Mozambique, the iSimangaliso Wetland Park is one of the country's largest conservation areas, and is a considered a highlight for any trip to South Africa.
The reserve is long and narrow, especially towards the north with a band of vegetated sand dunes running parallel to the coast, for the length of the reserve, separating the interior from the ocean. Lake St Lucia, (actually an estuary for the Hluhluwe River and others) which is 80 kilometres (50 miles) long and up to 23 kilometres (14.2 miles) wide dominates the south of the reserve the rest of the landscape being mostly flat.
In the north South Africa's largest freshwater lake, Lake Sibaya and four smaller interlinked lakes are found near Kosi Bay. The wilderness reserve's eastern boundary is formed by the Indian Ocean and the marine protected area extends outwards from the coastline, protecting both land and sea flora and fauna. The town of St Lucia is incorporated into the wilderness park and is located at the south of the reserve, 26 kilometres (16 miles) from Mtubatuba.
The history of the iSimangaliso Wetland Park
The area has been used and inhabited by man for many years. Historical evidence, including decorative pierced seashells, dating back to the Later Stone Age has been found in Border Cave in the Lebombo Mountains, west of Kosi Bay. There are also Iron Age sites located at Enkwazini, east of Lake St Lucia that date back to 290AD.
The first south-migrating Bantu people arrived in the area around 1440, impacting the landscape greatly through livestock grazing, hunting and bush clearance. Discoveries of trade beads suggest that Arab traders visited the region as early as 1250 and Vasco Da Gama and his crew are said to have been the first European settlers on the coastline when they landed here in December 1497.
The Dutch landed in the area in 1670 and the British followed years later in 1822. The year 1853 saw the first ventures inland with a ship to Lake St Lucia as far as 50 kilometres (31 miles) up the Mkuze River. These explorers were all later followed by hunters, ivory traders and missionaries.
The initial reserve, which was much smaller than the current day expanse, was first established in 1895, making the Hluhluwe-iMfolozi region the oldest conservation area in South Africa. The park was proclaimed South Africa's first World Heritage Site in 1999 during an unveiling ceremony where Nelson Mandela was the guest of honour. Previously known as the St Lucia Wetlands, the reserve was renamed iSimangaliso, which means 'miracle and wonder' in 2010.