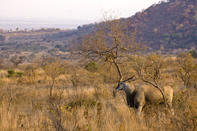 © Roger de la Harpe
Considered to be one of the most ambitious game reserve projects in the world, the Pilanesberg Game Reserve is home to at least 86 species of African wildlife and offers its visitors a Big Five game viewing experience.
A brief history of the Pilanesberg Game Reserve
Formed in 1979 under a project known as Operation Gensis in 1979, the Pilanesberg Game Reserve is a wildlife park that spans across 50 000 hectares of land in a semi-circular shape incorporating hills, valleys and broken rock country created from ancient volcanic activity.
An interesting fact is that the Pilanesberg game reserve is in fact not one of South Africa's National Parks, as it is managed by the North West Parks Board and not the national government. The safari park takes its name from the Tswana chief, Pilane.
Interesting volcanic landscape
It is considered one of the world's most incredible geological phenomena as it is the site of one of the largest volcanic complexes of its type in the world. The large alkaline rock ring complex was formed during a massive volcanic eruption 1 200 - 1 300 million years ago with the remnants of the explosion still seen today, despite heavy erosion of landscape, in the remnants of lava flow and angular rock fragments called breccia.
The Voortrekkers Arrive
The nature park area has a rich history of occupation and visitors will be able to spot the visible relics of its pre-historical inhabitants in the remains of walls that are scattered across the reserve and date back to the 17th century.
At the foot of the hills evidence of Iron Age Batswana settlements has been found and in the 9th century the area home to the intrepid Afrikaners who lived and farmed in the area at the end of the 'Great Trek'. There are a few scattered graveyards in the area to remind visitors today of the inhabitants of the past. This period also saw the reserve acting as a sanctuary to the rebel Zulu warriors who, while fleeing from the Zulu king; Shaka, passed through the area.
Post Apartheid
During the 1960s the farms that make up the park, were purchased by the South African government and were used as a settlement area for the Bakubung tribe. After Apartheid was abolished, the land was then handed over to the Bophuthatswana people and thus the only remaining private land is now 3 small sections which are all approximately 3 hectares in size as well as the 608 hectare farm owned by Catherina Clark, a daughter of South Africa's 4th Prime Minister; Jan Smuts.
Future Plans
There are currently plans in place to join the Pilanesberg Game Reserve with the North West provinces other major safari park; the Madikwe Game Reserve, which lies on the South Africa/Botswana border in the north of the province.