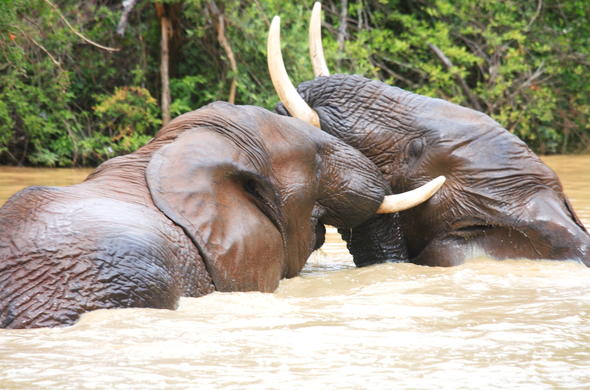 The Addo Elephant National Park has a long and bloody past, as it was once the location for many clashes between tribes and colonisers as well as the site of excessive hunting of wildlife.
The heritage of one of South Africa's top safari parks - Addo Elephant National Park
The overall size of Addo Elephant National Park is 686 000 hectares, which encompasses 164 000 hectares of land and a 120 000 hectare marine reserve. Stretching from past the shoreline near to Kenton-on-Sea in the east to the dry Karoo in the north-west, Addo Elephant National Park centres on the Zuurberg Mountains and has altitudes that range from sea level all the way up to 1 000 metres above sea level. The Sundays River runs along the south-western boundary eventually reaching the sea at Algoa Bay.
Earliest Inhabitants
The earliest visitors to the game reserve area arrived about 5 000 years ago, but it was only 1 000 years later that man decided to settle and live in the region. Between 2 000 - 1 500 years ago there is evidence that more and more Khoekhoen (Khoi Khoi) people arrived and settled in the area, many of whom died however during an outbreak of smallpox that hit the area in the early 1 700s.
Around the same period nomadic Xhosa tribes were also entering the area, many of whom settled in the North and along the Wit River. There were many clashes between the nomadic Xhosa and the settled Khoekhoen (KhoiKhoi) as they tried to secure their space and claim the land.
The Colonials Arrive
The 1740s saw the arrival of the Boer people to the area in search of Ivory and trading opportunities and by the 1750s they too had decided to settle in the area and start to farm. Clashes between the various inhabitant escalated until the early 1811 when 1 000 Boer soldiers drove over 20 000 Xhosa and the Khoe (Khoi) out of the area to beyond the Great Fish River.
Elephants in the region were hunted almost to extinction
Throughout all of the fighting and arrival of settlers, hunters continued to poach the Elephant and other game animals in the area and eventually by the early 1900s there were only a few small populations of Elephants left. A ruling passed in 1919 by Major PJ Pretorious ordering that all of the remaining Elephants in the area were to be exterminated, saw 114 for these graceful animals shot in just over a year.
By 1931 only 11 Elephants remained and a National Park was proclaimed in an effort to protect these wild animals, however the enclosure keeping the animals in the area was inadequate and the animals were lost one by one, until 1954 when an Elephant-proof fence was finally erected. Today there are over 450 elephant found in the game reserve and the population is flourishing.