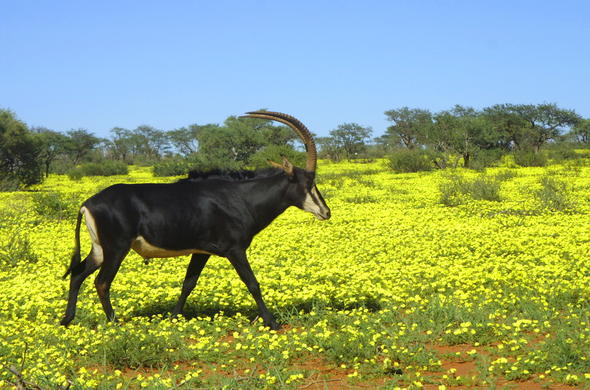 The vast expanse of the semi-arid Tankwa Karoo National Park is located in the Northern Cape Province. A typical Karoo environment, the harsh arid landscape is both disarming and enticing.
A place of peace and tranquillity - the Tankwa National Park
Getting your bearings
The Tankwa Karoo National Park stretches for 144 000 hectares and is located on the border of the Northern and Western Cape near to the towns of Sutherland, Calvinia, Ceres and Middelpos. Visitors to the nature reserve will relish in the peace and tranquillity of their surroundings while soaking up the sunshine and breathing the crisp fresh air. Most of the craggy landscape of the reserve is flat with the occasional isolated rocky outcrops extending towards the east where the Roggeveld Mountains are found.
History of the Tankwa National Park
The park has a long history of human occupation with evidence being found dating throughout the Earlier, Middle and Later Stone Ages. The San people roamed the land for decades and were still here when the white settlers arrived.
Farmers began to occupy the land by the mid-18th century and by the 19th century farm boundaries had been established and property ownership claims were laid. A small section of land was proclaimed a nature reserve in 1986 and this was expanded over the years to reach the extent that the park is today.
What animals can you see in the Tankwa Karoo National Park?
The Park is home to a number if interesting animals of which visitors are most likely to see Steenbok on the plains and Klipspringer on the eastern hills. In the east one may be lucky enough to find Grey Rhebok, Greater Kudu and Springbok. Some game animals have been recently reintroduced into the reserve including, Red Hartebeest, Cape Mountain Zebra and Gemsbok. Savanna Baboons are found mainly in the east of the reserve and Black-backed Jackals are regularly heard calling at night.
Great birding opportunities
The area is considered a great bird-watching destination for those wanting to spot arid-area specials such as Burchell's Courser, Karoo Long-billed Lark and Tractrac Chat especially between the months of August to October. Birders might enjoy spending time exploring the sweet thorn-lined Tankwa riverbed where good sightings are often had. There is also a notably high diversity of water birds found at the Oudebaaskraal Dam and on the Tankwa River.
The large expanse of the park coupled with the small number of visitors provides those that do visit with the unique opportunity to explore the reserve on their own esteem and to really soak up the sense of isolation and peace found here.
Vegetation of the Tankwa Karoo National Park
The national park's vegetation is made up mostly by low-growing shrubs, succulents and seasonal grasses. The western regions contain a mixture of low succulent shrub land while in the eastern regions one will find Roggeveld characterised by shale renosterveld. Many annuals and tall grasses appear after rainfall.