Tswalu Kalahari Reserve accommodation is offered in 8 suites at The Motse, while Tarkuni can be booked as an exclusive and private home with 5 luxury en-suite rooms.
Tswalu Kalahari Reserve accommodation in the Kalahari Desert is luxurious and intimate. The Motse accommodates just 20 people and Tarkuni, up to 10 people in a group. The main lodge at this Kalahari accommodation in South Africa has a Spa, an infinity pool and elevated decks with views over the savannah.
At Tswalu, guests can enjoy food not seen anywhere else in the world. Modern South African cuisine is served in a variety of fabulous settings or guests can choose to have a romantic dinner in-suite.
The Motse at Tswalu Kalahari Reserve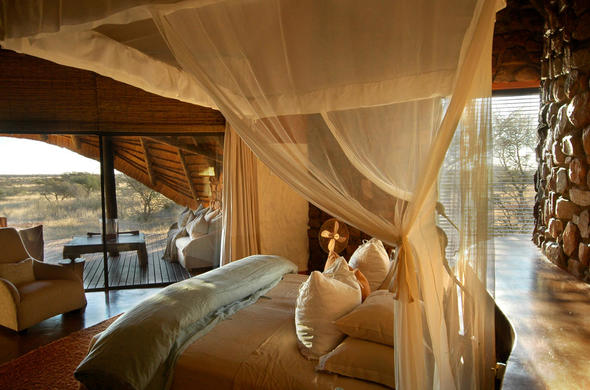 The
Motse is the main lodge
at this Northern Cape game reserve in South Africa. The lodge takes its name from a Tswana word meaning 'village'. Here guests can enjoy an outdoor heated swimming pool, Sanctuary Spa and Gym, walk-in wine cellar stocked with South African wines, a mezzanine library with satellite TV, literature and artefacts and the Tswalu Foundation Gift Shop.
The
legae (suites) are built of local stone
, rich red clay and typical Kalahari thatch roofs, and altogether can accommodate a maximum of 20 people. Six of the legae are for 2 guests each, while 2 legaes were designed with families in mind, each accommodating 4 people. Each suite features indoor an outdoor showers, a separate dressing area, an open fireplace, private sun deck overlooking a waterhole, broadband Wi-Fi Access and a direct dial telephone.
Tarkuni at Tswalu Kalahari Reserve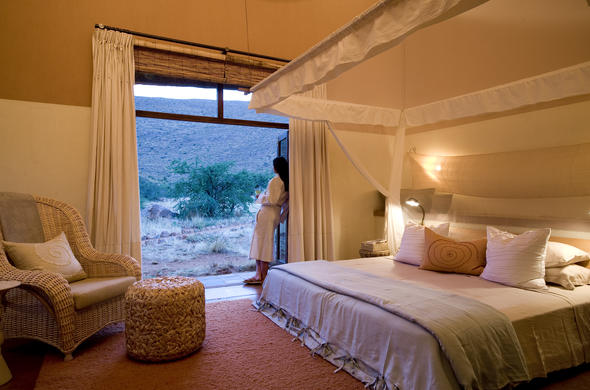 Set in a private area of the Tswalu Kalahari Game Reserve, Tarkuni is the
ultimate in secluded luxury
and available for exclusive use only. Built amid 2 rolling mountain ranges, Tarkuni is perfect for families and small groups of up to 10 guests.
This Kalahari accommodation in South Africa contains 5 luxury bedrooms with en-suite bathrooms featuring walk-in indoor and outdoor showers, two lounges with fireplaces, dining room, library, covered patio,
swimming pool and a traditional boma (enclosure)
. Tarkuni has its own dedicated team including a host and private chef. A private vehicle, personal field guide and tracker ensure an equally personalised safari experience.