From R 3,670

For complete luxury and style, Karongwe Private Game Reserve in South Africa offers a variety of lodging options, Kuname, Shiduli, River Lodge, Chisomo and Becks Safari Lodge. Children are welcome at Karongwe.
At Karongwe Private Game Reserve in South Africa, guests can stay in unique and comfortable lodges, each offering an authentic and luxurious African experience in the bush. The accommodation is individually designed to appeal to the various styles and tastes of its guests.
Kuname Lodge (5*)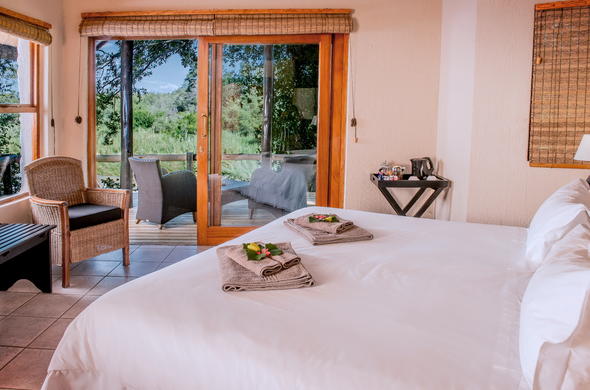 Kuname Lodge consists of 4 luxury thatched suites and 1 Premier thatched suite, all en-suite with outdoor bathrooms and private wooden decks. All of the rooms are fully air conditioned and sleep a maximum of 2 persons. Kuname Lodge welcomes children 12 years and older and they are accommodated in their own rooms.
Each of the suites are complete with a mini bar and tea/coffee making facilities. Guests can enjoy magnificent views of the Kuvjename River from their own private wooden deck and pool area. Other facilities at Kumane Lodge include a library and TV room, fully licensed bar as well as a boma for outdoor dining (weather permitted).
Shiduli Private Game Lodge (4*)

Shiduli Private Game Lodge boasts intimate air-conditioned en-suite rooms, surrounded by beautiful and lush indigenous gardens. Each suite welcomes guests with large romantic beds fitted with white linen, flowing mosquito nets and a thatched roof. Shiduli Private Game Lodge has 10 interleading Luxury Rooms and 14 Luxury Suites.

The Royal Suite which offers guests luxury and elegance lies tucked away a short distance from the main lodge.The suite consists of a king-sized bed, lounge and wooden furniture reflects a grand colonial ambiance as well as an en-suite bathroom with a bath, large glass shower enclosure that leads to an outdoor shower and deck.
Facilities at this lodge include a mini bar and tea/coffee making facilities, stunning pool area, library and TV room, fully licensed bar, boma – for outdoor dining (weather permitted) as well as a wonderful children's centre which includes a mini tracker course.
Chisomo Safari Camp (4*)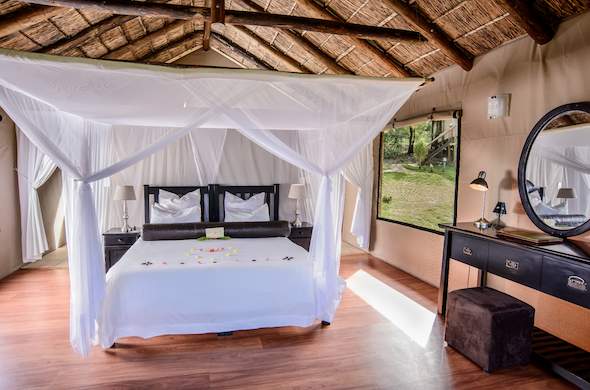 Each of the 4 star tents facing the beautiful Makhutswe River consist of en-suite bathrooms. Guests can enjoy unforgettable views of wildlife such as Elepant, Leopard, Kudu, Nyala and Bushbuck from their own private deck. All tents are complete with mini bar and tea/coffee making facilities, a pool area, fully licensed bar and a Boma – for outdoor dining (weather permitted).

The friendly staff at Chisomo Safari Camp ensure guests receive personal attention and service at all times.
Karongwe River Lodge (5*)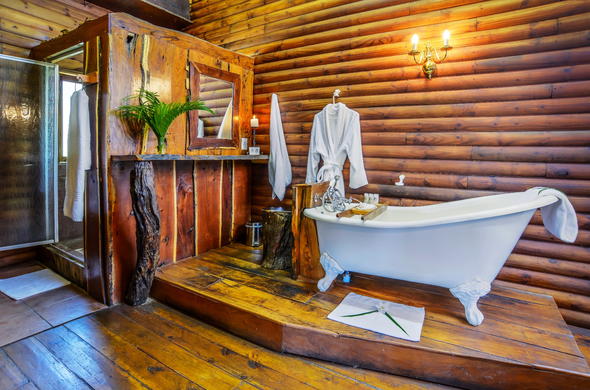 The spacious thatched, wooden suites have en-suite bathrooms with a bath and shower as well as a private deck with chairs for guest's viewing pleasure. There are 7 luxury suites ideal for couples, 2 lovely family suites accommodating 5 people, 2 executive suites and 2 opulent presidential suites. 1 Luxury & 1 Presidential Suite equipped for guests with disabilities. Each suite boasts an indulgent en-suite bathroom.

Guests at this Karongwe Game Reserve accommodation can spend the afternoon relaxing by the pool or enjoy a tranquil siesta before an exciting late afternoon game drive with a personal ranger. Game viewing is also possible from the privacy of guest suite balconies. Sundowners are enjoyed before delectable dinners under the stars whilst listening to the interesting sounds of the wild. At River Lodge guests will enjoy the finest Pan African feasts in a rustic outside boma or in the magnificent dining room. Karongwe has an impressive wine list, with a selection of South African and imported wines, beers and spirits to complement the fine cuisine.
Becks Safari Lodge (5*)

Becks Safari Lodge in Karongwe Private Game Reserve accommodates up to 20 guests in luxury safari suites with stunning views of the waterhole or the Makhutswi River, both attracting local wildlife. Each suite is made of brick, metal and canvas with air-conditioning, spacious interiors and a private deck.

The main buildling is a light and airy space overlooking the river bed with a deck and infinity pool boasting superb views of the bushveld. The fire pit brings guests together in the evenings to share their exciting safari adventures.