Places in South Africa:
South Africa
Eastern Cape (Sundays River Valley | Addo Elephant Park) (Eastern Cape | Amakhala Game Reserve | Kariega Game Reserve | Kwandwe Private Game Reserve | Lalibela Game Reserve | Mpongo Private Game Reserve | Pumba Private Game Reserve) (Wild Coast | Inkwenkwezi Private Game Reserve) (Great Karoo | Samara Private Game Reserve) (Garden Route EC | Tsitsikama Coastal National Park)
Western Cape : Cape Agulhas | Bontebok National Park | Overberg (Garden Route WC | Grootbos Nature Reserve | Knysna National Lake Area | Wilderness National Park) (Bokkeveld | Kagga Kamma Game Reserve) (Peninsula | Table Mountain National Park) | Knysna | Plettenberg Bay
Mpumalanga (Mpumalanga Lowveld | Blyde River Canyon Nature Reserve) | Badplaas
KwaZulu Natal (Zululand | iSimangaliso Wetland Park | Falaza Game Park And Spa | Hluhluwe Imfolozi Park | Kosi Bay Nature Reserve | Pakamisa Game Reserve | Thanda Private Game Reserve | Thula Thula Private Game Reserve) (Drakensberg | Giants Castle Reserve | Nambiti Plains Game Reserve | Royal Natal National Park | Ukhahlamba-Drakensberg Park) | Ithala Nature Reserve | Midlands (Maputaland | Ndumo Reserve) | Lake Jozini | Sodwana Bay
Free State : Golden Gate Highlands National Park
Limpopo Province (Limpopo Lowveld | Karongwe Private Game Reserve) (Waterberg | Marakele Reserve) (Soutpansberg | Morning Sun Nature Reserve) (Limpopo Highveld | Welgevonden Private Game Reserve)
Northern Cape (Kgalagadi | Kgalagadi Transfrontier Park) | Karoo (Upper Karoo | Tswalu Kalahari Reserve)
North West Province : Pilanesberg Nature Reserve

Kololo Game Reserve in Limpopo, South Africa lies in the heart of the Waterberg biosphere, an untouched wilderness just 3 hours from Johannesburg
The Kosi Bay Nature Reserve forms part of the iSimangaliso Wetland Park, it contains a system of estuarine lakes that offer excellent diving, snorkeling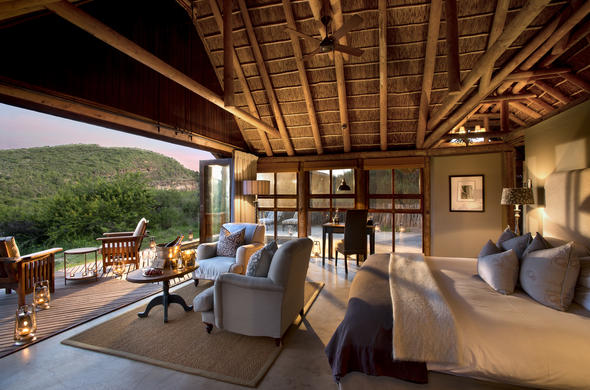 Kwandwe Private Game Reserve near Grahamstown, Eastern Cape, is more than a Big Five safari destination in South Africa - it's a conservation victory
Lalibela is a malaria-free Eastern Cape game reserve in South Africa with exceptional wildlife habitats creating unforgettable Big Five safari
Likweti Bushveld Farm Estate (formerly knows as Likweti Lodge and Sanctuary) is a living example of the harmonious cohabitation of agriculture, tourism and wildlife.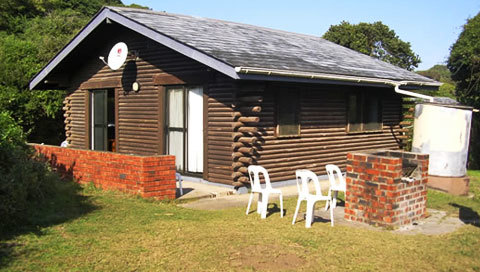 Get away from it all to Maphelane at the mouth of the Mfolozi River. This KwaZulu-Natal nature reserve is situated in the south
Visit this Limpopo nature reserve in South Africa and discover the wonders of Mapungubwe for history, wildlife and scenic beauty. Its World Heritage
Marakele National Park, a Limpopo Nature Reserve in South Africa, is home to a diverse range of South African wildlife and plant species
Mashovhela Lodge in Morning Sun Nature Reserve is an eco-friendly lodge in South Africa, offering a bush holiday that is interwoven with Venda culture
Relax in the great outdoors with your family and friends at Midmar Dam. This KwZulu-Natal nature reserve has water sport facilities and a game park
Visit Mkhuze Game Reserve for game viewing and birding in beautiful and diverse landscapes. See Rhino and Elephant in this KwaZulu-Natal nature reserve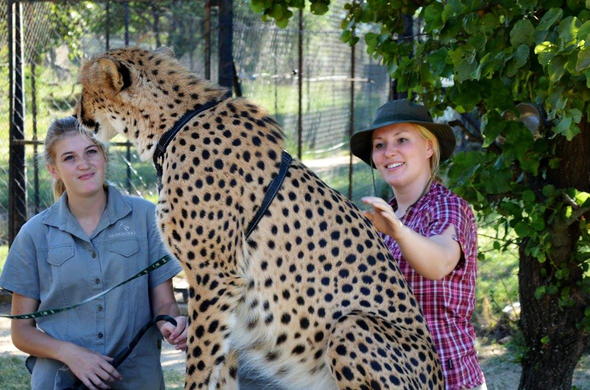 At Moholoholo guests enjoy a picturesque setting at the base of the Drakensberg Mountains in Limpopo. The Moholoholo Wildlife Rehabilitation Centre
Lydenburg accommodation at Mount Anderson Reserve is in an exclusive cottage and private rooms for a Mpumalanga nature reserve safari
Experience the heart of the Great Karoo on a personalised safari at Mount Camdeboo Game Reserve in Eastern Cape. This malaria-free game reserve provides
Mpongo Private Game Reserve near East London lies in the malaria-free Eastern Cape, South Africa. It is named after the historic Mpongo River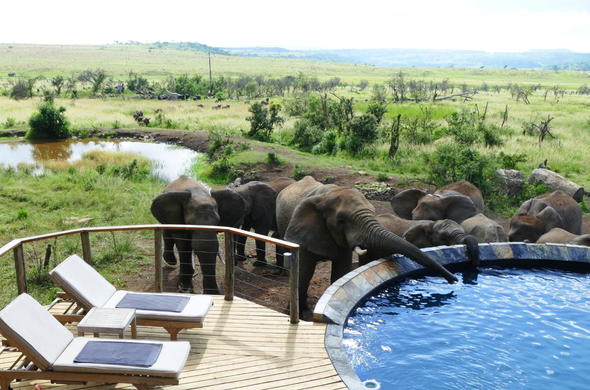 Big Five safaris, magnificent sunsets and the magic of the Drakensberg, all this and more can be found at Nambiti Private Game Reserve in KwaZulu-Natal, South Africa.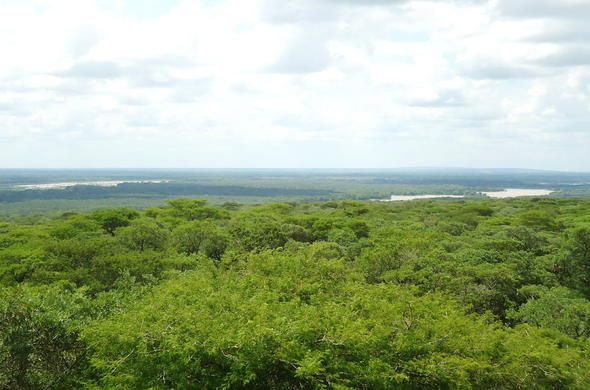 Ndumo Game Reserve in Maputoland, KwaZulu-Natal, South Africa, is a rewarding area to view wildlife with its wetlands and pans, thick bush, savannah
At the Nkomazi Game Reserve in Mpumalanga only an exclusive amount of guests can find accommodation in one of 10 luxury tents to enjoy the tranquil wilderness
Pakamisa Lodge enjoys a remote and lofty position in northern Zululand, South Africa. This malaria-free KwaZulu-Natal game reservein South Africa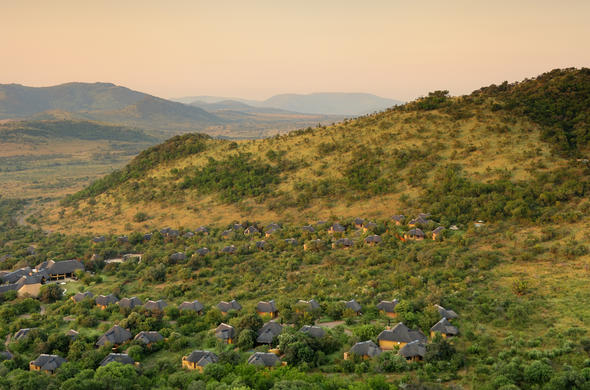 Malaria-free Pilanesberg National Park, adjacent to Sun City Resort, is situated in a long extinct volcano. Spot Big Five in one of the largest national
Plettenberg Bay Game Reserve is the ideal holiday destination, this malaria free Game Reserve in Plettenberg Bay adds a new dimension to Garden Route
Pongola Game Reserve in KwaZulu-Natal is unique in that it offers great water based activities for relaxing adventures whilst game viewing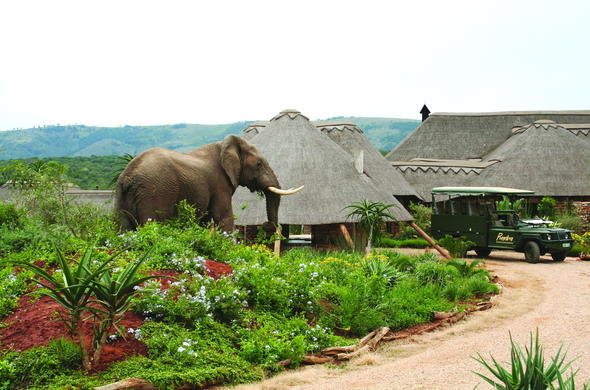 Pumba is a malaria-free Eastern Cape game reserve in South Africa. It features Big Five game and the mystical White Lion. Two intimate safari lodges
Royal Natal National Park is renowned for its spectacular scenery and fabulous mountain trails which explore the heart of this KwaZulu-Natal nature
Samara Game Reserve in the Great Karoo, Eastern Cape, South Africa, provides guests with luxury accommodation in a serene setting, excellent

Page: 2 of 3