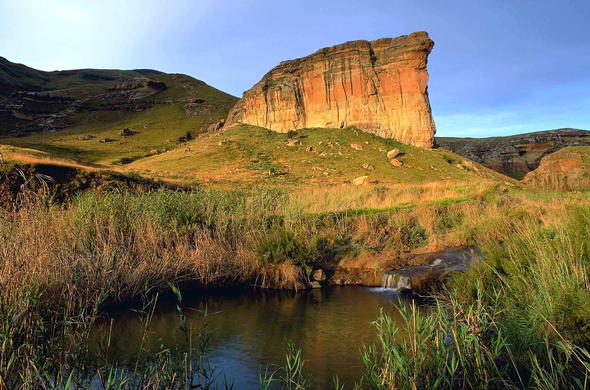 Golden Gate Highlands National Park is situated at the foot of the Maluti Mountains and offers amazing views of the Drakensberg
Golden Gate Highlands National Parks conference facilities:
Golden Gate Highlands National Parks conference facilities seat 40 people at tables which are arranged in a U-shape, 80 seats at tables in rows facing forward or 180 seats in rows without tables. Golden Gate equipment compromise overhead projector, blackboard, flip chart, 16mm projector and slide projector, public address systems, 2m x 2.5m screen and TV and VHS video macines. (Please book equipment needed).
Golden Gates photocopying facilities are available at a fixed rate - on requests. Delegates are a liberty to use their own equipment. The hall can be darkened. Water, glasses, ashtrays and sweets are provided on the tables. Tea, coffee and refreshments are available at extra cost.
All Golden Gate meals can be taken in the restaurant. Special meals (braais, buffet can be served if arrangements are made in advance. Groceries, liquor and curios can be purchased at the shop. Reservations are subject to a deposit, payable in advance. Accounts are payable within 30 days.
Read more about Golden Gate National Park in Free State, South Africa.